There have been plenty of young stars emerge during the 2020/21 Europa League, but few have been as impressive - or under the radar - as Slavia Prague wonderkid Abdallah Sima.
The 19-year-old has burst onto the scene with goal after goal after goal, lighting up the European stage as well as domestically in the Czech Republic. Consider that little more than a year ago, 12 he was playing in the French fifth tier and his accomplishments seem all the more impressive.
Inevitably, with top notch performances comes interest from around the continent, and Sima is no different. French media have recently claimed that Crystal Palace are in 'advanced talks' over a move to the Premier League, while there is also thought to have been dialogue with West Ham - the Czech club's president even going as far as to say talks have been held.
But Sima isn't known to everybody, so it's probably in everybody's interests - and yours - for 90min to fill you in on all you need to know about him.
---
Is Abdallah Sima any good?
1. Yes, and he's enjoyed a quick rise through the ranks
As mentioned, Sima's exploits at Slavia Prague are even more incredible knowing how they've come to be.

Aged 17, he was still playing local football in Senegal, before moving to French fifth tier side Thonon Evian. After leaving France, he moved to the Czech third tier in March 2020 - you know, when that pandemic hit - and was limited to months inside rented accommodation in a new country on limited training sessions.

Slavia Prague caught wind of Sima by the summer, and took a punt on him after seeing him in a friendly. After lighting it up for their B-team, he had been promoted to the first team by September and has since become their star man.

All in a year's work.
---
What national team does Sima play for?
2. Senegal, debuting as a 19-year-old.
Sima's start to 2021 couldn't have been much better.
After seeing his goalscoring form help Slavia Prague into the Europa League knockout stages - where he bagged against Leicester - he made his full international debut for Senegal in March.
All at the age of 19. Lovely.
---
What position does Sima play?
3. He's a versatile forward
Standing around 6'1, Sima isn't just a typical throwback striker.
His versatility sees him used predominantly from the right flank, where his excellent running, intelligent pressing and well-timed jaunts in behind often put him in good positions to score.
Sima is still young and there are flaws to his game for sure, such as passing and beating a man consistently. But having a knack for goalscoring while still so early into his professional career is pretty damn impressive.
---
What type of goals does Sima score most?
4. Anyone for a Peter Crouch regen?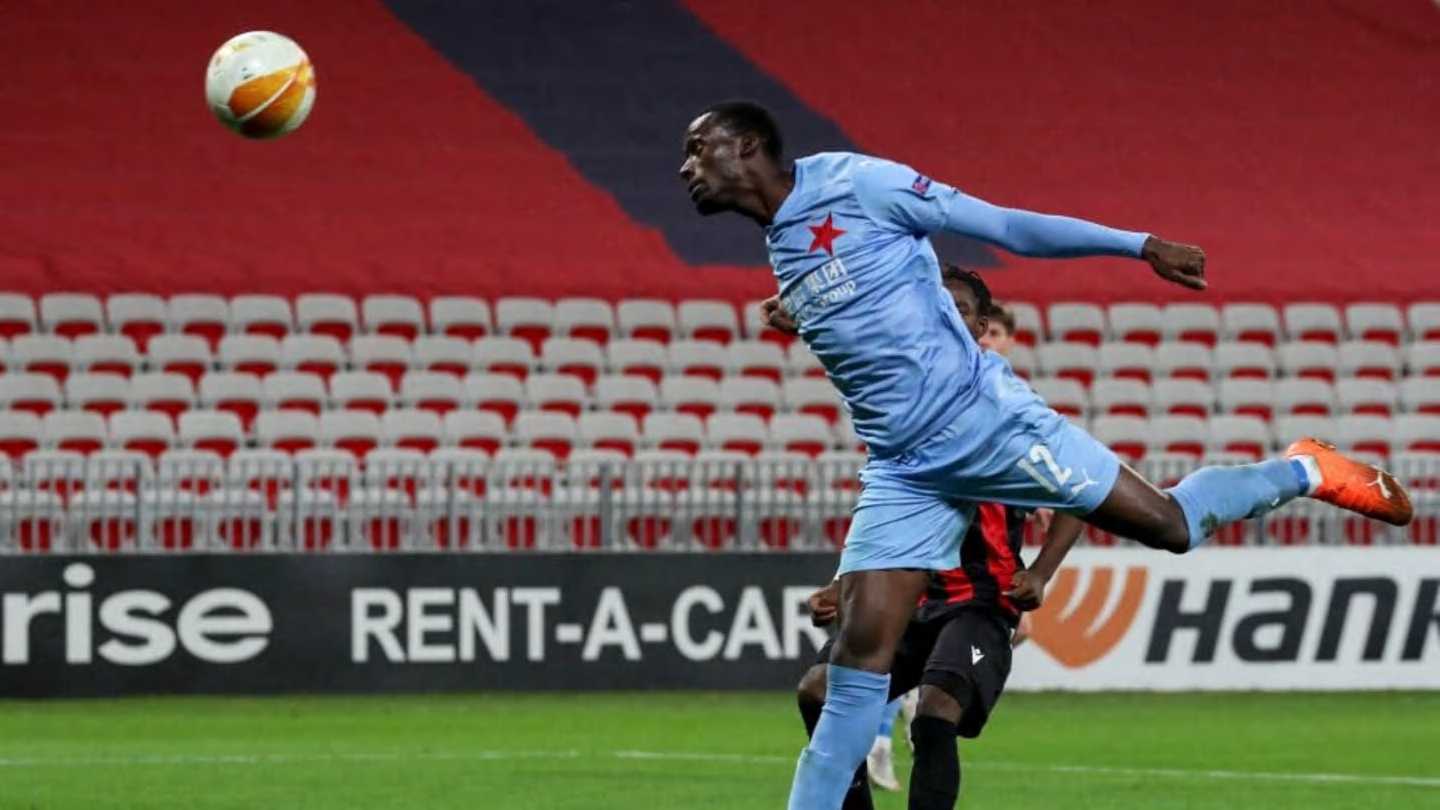 Some hail Lionel Messi as the blueprint, others prefer Cristiano Ronaldo. And if it's not those two, then it might be Zlatan Ibrahimovic.

Sima's ability to score headers with regularity is more reminiscent of a prime Peter Crouch, however - we're just waiting on him to crack out a robot celebration.
---
What is Sima's rating on FIFA 21?
5. He's a top of the range silver card It may come as a surprise that Sima and Slavia Prague are in FIFA 21, given all anybody seems to care about is the top five leagues. But they are and you should be over the moon with it.

In terms of his rating, Sima starts off with a 71 base card - a silver card in Ultimate Team mode - but you can get far more out of him if you roll through the years in a career.

Before you know it, Sima could be 85 rated - and should you wish to sign him, he's only valued at around £4m and his wages are pitifully low at £500-per-week. Woof.
---
Source: 90min
---