Following a few weeks in which:
- Mohamed Salah was the best player in the Premier League.
- Newcastle United were sold by Mike Ashley (yay) and bought by alleged human rights abusers (boo).
- And basically every good team in Europe lost. Seriously: Bayern, PSG, Ajax, and Benfica all lost.
We at 90min are back at it again - trying to rank the ten best football teams in Europe using quotes from Seinfeld (because it recently got added to Netflix).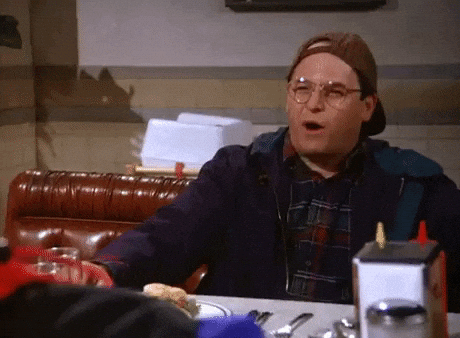 ---
10. Paris Saint-Germain (Down 8)
"SERENITY NOW!"

In the last two weeks Mauricio Pochettino's Paris Saint-Germain have:

- Watched Kylian Mbappe moan about not being allowed to sign for Real Madrid.
- Watched Georginio Wijnaldum moan about his lack of game time.
- Lost to a relegation-threatened Rennes team.

Yeah.it's not been good.
9. Bayer Leverkusen (new entry)
"You don't understand what I'm up against. This is a force more powerful than anything you can imagine! Even Superman would be helpless against this kind of stench! And I'll take anything I can get for it."

Bayer Leverkusen are up against a force more powerful than anything you can imagine: Bayern Munich.

And despite being fairly helpless against Bayern in the Bundesliga title race, they are giving it a right good go at least.

Die Werkself have won their last three BuLi games on the bounce and are level on points with Bayern at the top of the table ahead of their blockbuster clash this weekend.
8. Chelsea (re-entry) "I crave all of the time. Constant craving."

Timo Werner has been craving that first goal of the season for quite a while, and it finally came against Southampton.

We know you're thinking 'oh great, a goal against Southampton, well done m9', but it's a start at least.
7. Juventus (up 2)
"You guys got to put a negative spin on everything."

Juventini have had at least 300,000 mental breakdowns so far this season - tweeting that Max Allegri 'can't work with young players', that 'Juventus are nothing without Cristiano Ronaldo' etc, etc.

And while they've all been complaining about every single thing imaginable, their team have actually started to play quite well. They've won their last four games, beating inner-city rivals Torino and European champions Chelsea along the way.

So, Juventus fans: maybe it's time to focus on the positives, eh?
6. AC Milan (re-entry)
"I never knew I could drive like that. I was going faster than I've ever gone before, and yet, it all seemed to be happening in slow motion. I was seeing three and four moves ahead, weaving in and out of lanes like an Olympic skier on a gold medal run. I knew I was challenging the very laws of physics."

Honestly, we never knew Sandro Tonali could play this this - especially after his abysmal debut season at AC Milan.

The young Italian midfielder has become one of the best players in Serie A seemingly overnight, and the driving force behind Milan's Scudetto challenge.
5. Bayern Munich (down 4)
"Are you the master of your domain?"

Bayern Munich looked as masterful as ever throughout the first couple of months of the Bundesliga season - scoring goals for fun, not conceding goals.for fun too probably - but then they went and lost to a rather awful Eintracht Frankfurt team.

Now they're set to face the in-form team in Germany this weekend (Leverkusen), and will be hellbent on getting back on track.
4. Inter (re-entry) "We don't know how long this will last."

Here's a sentence I didn't think I'd be writing - ever:

Inter haven't missed a beat since selling Romelu Lukaku because a 35-year-old Edin Dzeko has scored six goals in his first seven Serie A games for Inter.

Which, yes, is quite surprising.

Obviously this form won't last forever, but Inter fans can enjoy it while it lasts at least.
3. SSC Napoli (-) "This jacket has completely changed my life. When I leave the house in this, it's with a whole different confidence. Like tonight, I might've been a little nervous. But, inside this jacket, I am composed, grounded, secure that I can meet any social challenge."

Luciano Spalletti has completely changed SSC Napoli's fortunes. They're playing with a whole different confidence, and are actually winning games and playing some beautiful football while doing so - something they never did under Gennaro Gattuso.

I Partenopei are winning so many games, in fact, that they're now the only team in Europe with a 100% league record (seven wins in seven). Nice one.
2. Liverpool (up 2)
"I proclaim this: The Summer of George!"

Mohamed Salah's 2020/21 stats:
Games played: 9
Goals scored: 9
Assists: 3
Number of Tweets proclaiming him to be the best football in the world: 1,000,000,000.

90min proclaim this: The Season of Salah!
1. Manchester City (up 3)
"It's human to be moved by a fragrance."

Liverpool-Man City was Pure Barclays.

The sort of Pure Barclays that nearly moved us all to tears of joy - and definitely moved us all to a few knees slides around our living rooms.

And that sort of Pure Barclays wouldn't have been possible without Man City doing something that very few teams dare to do: take the game to Liverpool at Anfield.

By doing that City not only drew 2-2, but also moved to the top of 90min's definitive European power rankings.
---
Source: 90min
---