Cristiano Ronaldo has come in for some criticism as Real Madrid languish behind Barcelona in the early stages of LaLiga.
The Portugal forward has scored only one goal in six league games so far as Real lie third and trail their table-topping arch-rivals by eight points after 10 games.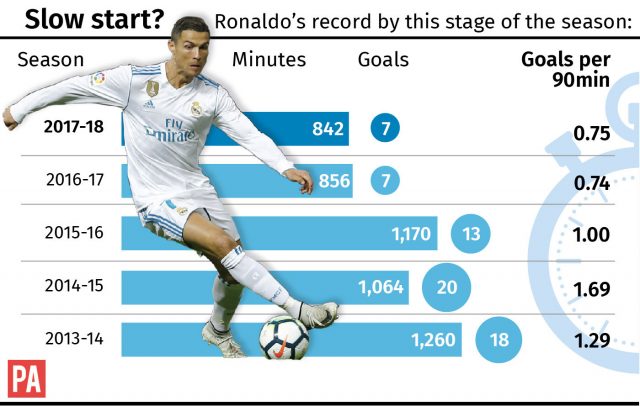 As Real prepare to face Tottenham at Wembley in the Champions League, though, is it too soon to write off the FIFA player of the year?
Our man in Europe
If anything, this competition has been Ronaldo's saving grace in his otherwise slow start to the season.
He scored in his side's previous clash with Spurs, a 1-1 draw at the Bernabeu two weeks ago, with two goals against both Borussia Dortmund and APOEL Nicosia giving him five Champions League goals already.
A hat-trick for his country against the admittedly-weak opposition of the Faroe Islands was another indication he still possesses his shooting boots.
Seen it all before
Ronaldo also scored in his brief, dramatic appearance in the Spanish Supercopa against Barcelona, a brilliant strike which was quickly followed by a needless red card and a foolish shove of referee Ricardo De Burgos Bengoetxea which landed him a five-match domestic ban.
That has limited his playing time this season – but as luck would have it, it almost exactly matches his involvement by this stage of last season as he eased his way back from an injury in the Euro 2016 final.
His overall scoring record so far this season is seven goals in 842 minutes for Real, or 0.75 goals per 90 minutes excluding stoppage time. That matches up almost exactly with his seven in 856 minutes up to the end of October (0.74 per 90) last season… when he finished with 25 league goals and 38 in total for Real.
Cause for concern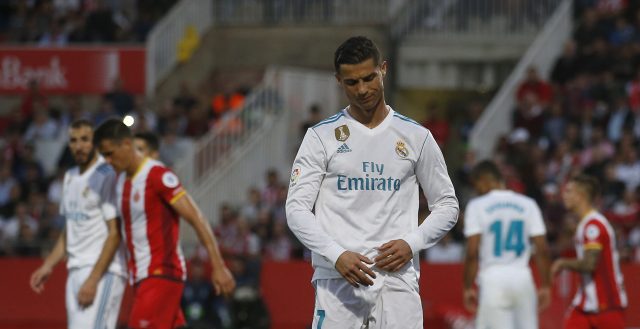 The warning signs are still there, though – Ronaldo has fewer league goals in more appearances for Real this season than either Gareth Bale, also often criticised, or youngster Dani Ceballos who has already matched his tally from LaLiga last season. Isco and Marco Asensio have three each.
The overall trend is also slightly concerning, particularly since he turned 30 in 2015. Ronaldo had 13 goals for his club by Halloween in the 2015-16 season, at a rate of exactly one per 90 minutes, and 20 and 18 by this stage of the two campaigns prior to that.
The 20 in 2014-15 came in 1,064 minutes at a rate of 1.69 goals per 90. He finished that campaign with a scarcely believable 61 goals in all club competitions, and both 2013-14 and 2015-16 with 51.
Source: By PA Sport Staff
---