Manchester City manager Pep Guardiola believes English clubs might be better without the "wasted energy" of a League Cup campaign.
The Spaniard echoed the view expressed by United counterpart Jose Mourinho on Wednesday, when the Portuguese suggested the domestic game could perhaps "survive or even be better without this competition", which United won last season.
Guardiola, like most managers, made major changes for the midweek cup win over West Brom and is poised to switch back to a first-choice XI for the visit of Crystal Palace in the Premier League on Saturday.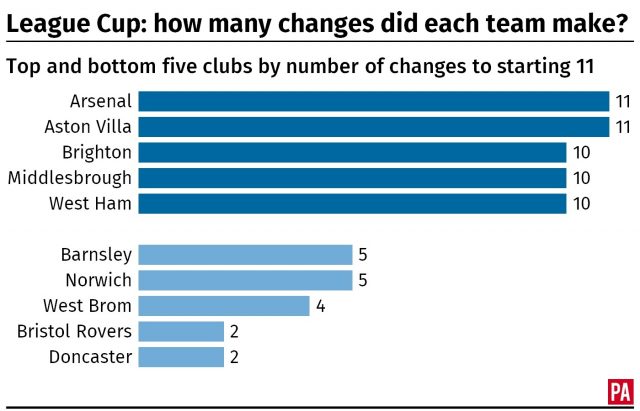 There were eight alterations to the team sheet for the game against the Baggies compared to the team which thrashed Watford last weekend, with City facing a hectic schedule which includes games against Shakhtar Donetsk and Chelsea before the end of the month.
"Business is business, but we have a lot of games," Guardiola said at a press conference on Friday ahead of the Palace match.
"If you have to play the competition you have to play the competition, but it is a title that when you win it is okay, but after that people don't give too much credit. You don't promote to go to international competitions. The prize is good when you win another one, but you waste a lot of energy.
"You can't imagine going to play Tony Pulis teams at West Bromwich Albion, play 90 minutes there in those conditions, and then after three or four hours – bus, come back, three days later Crystal Palace, three days later Shakhtar Donetsk, three or four days later Stamford Bridge.
"For the managers it is a lot of wasted energy, but we knew that before, so it is not a complaint in those terms. If we have to play we have to play."
However, the League Cup remains "very important" for teams like Stoke, according to their manager Mark Hughes. The Potters boss made six changes to his team for the trip to Bristol City and lost 2-0 to the Sky Bet Championship club.
Hughes, though, feels the competition is still a worthwhile one to those teams outside of the very biggest Premier League teamse.
"I think (Mourinho) is just talking in terms of their ambitions," Hughes said. "Obviously, their priority is the Champions League, because it is huge for them, and the Premier League.
"So I am sure they view the League Cup as a hindrance, but we certainly don't. We would love to be involved still, but unfortunately we are going to have to wait another year.
"I think he is just talking in terms of his group of players, his club and their priorities, and I can see why he said it, but for the rest of us, it is an opportunity to win a trophy, and that is very important."
Source: By PA Sport Staff
---